Ch9 Appendices
Appendix A (not online) contains a table showing the spatial coordinates of all the Location ID numbers and links resolving Loci with the constituent features. See the PDF version of the dissertation for Appendix A.
Appendix B presents brief descriptions and photos of obsidian nodules from central Andean sources in order to show some of the variability between sources.
Appendix C shows some examples of obsidian tools from the central and south-central Andes.
Appendix B - Nodule Examples
A brief description and photographs of material from a few obsidian sources in the region. The map and table in Section 4.2 - "Tectonic Geology" and discussion in Section 4.4 - "How obsidian is formed" provide additional information relevant to this list.
---
B.1. Aconcagua
Other names: Aconcahua
Latitude: -16.8422
Longitude: -69.8632
Reference: Frye, Aldenderfer, Glascock 1998.
West of Mazo Cruz (Puno) and east of Osmore (Moquegua), Peru
| | |
| --- | --- |
| | Figure B-1. Nodule from the Aconcagua source. Photo courtesy of Mark Aldenderfer. |
---
B.2. Alca

Other names: Umasca, Cusco Type
Latitude: -15.1202
Longitude: -72.6928
References: Burger, Asaro, Trawick and Stross 1998b; Jennings and Glascock 2002; Rademaker, Sandweiss, Malpass, Umire, de la Vera Cruz, Fortin and Morris 2004.
Southeast of Alca in the Cotahuasi Valley, Arequipa, Peru. A University of Maine team has recently located primary deposits on the north flanks of Nevado Firura at 4400 to 4800 masl, a higher elevation zone than was indicated by previous studies.
Figure B-2. Some n
odules of Alca obsidian have a brownish tint.


---
B.3. Chivay
Other names: Cotallalli, Cotallaulli, Titicaca Basin Type
Latitude: -15.6423
Longitude: -71.5355
References: Brooks et al. 1997; Burger et al. 1998a.
East of Chivay in the Colca Valley, Arequipa, Peru. Photos below show examples of Chivay obsidian nodules.
Figure B-3. Nodule of Chivay obsidian from Maymeja weighing 1750g and 23.3 cm long. This nodule was not utilized (scars are geological in origin), perhaps because it has irregularities in the form of tiny crystals.
The nodules below were selected to show the variability of cortex encountered in the source area.
Figure B-4. Chivay obsidian (a, L03-161.341) nodule from quarry pit area with thin, angular cortex with tephra welded to exterior; (b, L03-160.178), an unmodified side of a grey core showing rough, tabular cortex with rounded corners, reddish tint is just a reflection. Three large flakes (not showing) were removed from opposite side of this core (c, L03-165.37) Core with cortical face of extremely thin cortex, some of the cortex is glassy while other parts appear opaque and perlitic; (d,L03-159.194) a core with cortical face on right showing a thin but "corduroy" cortex, and small quantities of light tephra welded to the outside.
---
B.4 Uyu Uyu
Other names: Oyo Oyo, Caracachi
Latitude: -15.6155
Longitude: -71.6760
References: Brooks 1998, Wernke 2003.
North of town of Ichupampa in the main Colca Valley.
Figure B-5. Nodule of Uyo Uyo obsidian with irregularities perhaps caused by air bubbles in the magma.
Appendix C - Examples of Obsidian Tools
Obsidian Tools from the Larger Region
These photos present some examples of the diversity of formal obsidian tools that have been found in the south-central Andes (Burger and Asaro 1977: 14-17). A discussion of obsidian use in the region can be found in this dissertation in Section 3.6. By count, and perhaps by weight, the most common obsidian artifact type in the region is the simple flake. Obsidian flakes have wide utility as cutting implements. The most common bifacial implement produced with obsidian was without question the projectile point. The points are predominantly the small, triangular point variety that was produced after 3,300 BCE in the south-central Andes. It is important to note that many of the photos below, meant to illustrate various obsidian forms in the central and south-central Andes, are fine examples of obsidian implements but (apart from the first few images) the tools were likely made from Quispisisa rather than Chivay obsidian because they derive from Nasca and Wari contexts. Photos of a selection of artifacts found in the Upper Colca project are found above in the text, or can be browsed online at http://mapaspects.org/colca/archweb/
---
| | |
| --- | --- |
| (a) | (b) |
Figure C-1. Obsidian projectile points from the Upper Colca survey project. (a) stemmed point from Block 2 [A03-260] was classified as a 4d (Late Archaic); (b) obsidian point from Block 2[A03-411] is a type 1b (Early Archaic) or a 2c (Middle Archaic) form.
---
| | |
| --- | --- |
| | Figure C-2. Obsidian point (Cat. 609) from Terminal Archaic context at Jiskairumoko, XRF showed this to be from the Chivay source (Craig 2005: 834, 913). |
---
Figure C-3. Bifacially flaked obsidian "Wari style" points or knives from surface contexts in Moquegua as part of the "Catrastro Arqueológico del Drenaje del Osmore Superior" (B. D. Owen and Goldstein 2001: Fig. 11 ). A. From site 295; B. Site 366; C. Site 314; D. Site 135; E. Site 354, Pampa del Arrastrado; F. Site 354, Pampa del Arrastrado; G. Site 354, Pampa del Arrastrado; H. Site 561, Cerro Baúl formal architecture. Photos courtesy of Bruce Owen.
---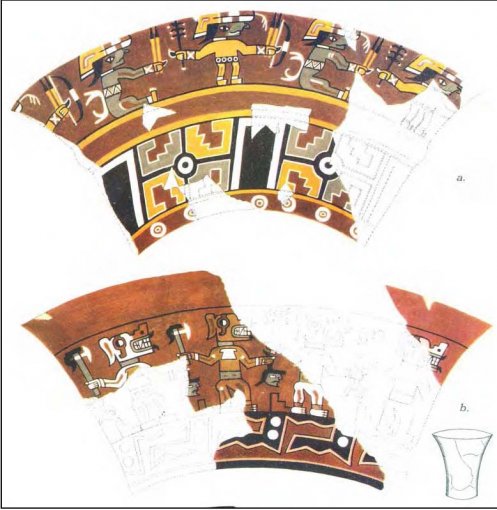 Figure C-4. Rollout of Tiwanaku q'ero showing bows and black-tipped arrows (top) near the rim of vessel (Posnansky 1957: XXa ).

---
Figure C-5. Early Nasca ritual obsidian knife hafted to painted dolphin palate (Disselhoff 1972: 277 ).

---
Figure C-6. Representations of black-tipped projectiles are diagnostic to Nasca B1 and B2 ceramics (Carmichael et al. 1998: 151 ).

---
Figure C-7. Paracas textile with figure holding black-tipped projectiles (Lavalle and Lang 1983: 950 )
---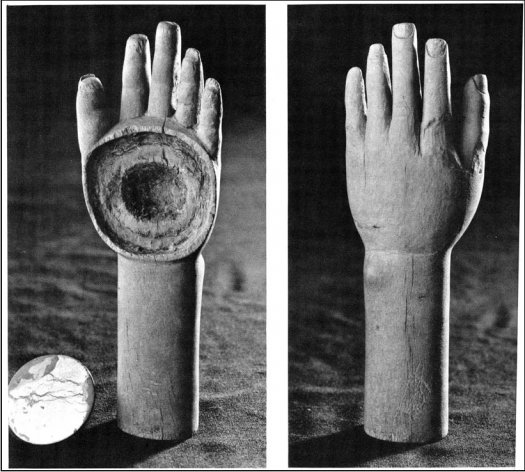 Figure C-8. Wooden hand mirror with obsidian inlay, Wari (Lavalle 1990: 185).

---
Figure C-9. Obsidian point hafted on harpoon found in a Paracas necropolis, Ica, Peru (Engel 1966: 180c ).

---
Figure C-10. An obsidian point embedded in a human lumbar vertebra that apparently entered through the stomach (from Ravines 1967: 230).

---
Figure C-11. Obsidian Point penetrating through arm muscle near left humerus found at Carhua in Ica, Peru (Engel 1966: 212 ).