Ch3 Archaeology of Region
The role of interaction across long distances has been a persistent theme in archaeological studies in the south-central Andean highlands. The emergence of the Tiwanaku state in the stark and sparsely populated altiplano seems improbable unless one considers the larger geographical setting and the apparent importance of sustained links over long distances that contributed to developments in the Lake Titicaca Basin. Archaeological research that focuses on the Formative Period, the time that preceded Tiwanaku in the Titicaca Basin, has demonstrated that regional centers coalesced out of a multitude of small villages that were articulated through a highly mobile sector of the economy based on camelid caravan transport. This chapter examines the roots of this mobile sector in the economy of the Terminal Archaic and the Formative by focusing on the transport of obsidian and the significance of early evidence of transport in the origins of long distance relationships in the south-central Andes.
This chapter will contextualized the theoretical issues surrounding raw material production and exchange in the south-central Andes. Subsequently, this chapter will explore some models of long distance interaction in the south-central Andes. Next, a review of the regional evidence for the production and circulation of Chivay obsidian from the a few major sites in the highlands will be followed by a temporal survey of Chivay distributions revealed by previous archaeological research. These regional data will be discussed by progressing through time beginning with Chivay obsidian use by early mobile foragers, and continuing in time through to the Inka period. A subsequent section considers broader patterns for use of obsidian in the Andes. This chapter concludes with a discussion of four models for obsidian procurement and circulation from the Chivay source, and the associated material correlates for these models.
A larger set of questions guides this chapter: Do the distributions of Chivay obsidian conform to those of utilitarian products like salt and dried meat, or do the distributions resemble those of prestige goods like spondylous, copper, or gold? Escaping the utilitarian / prestige goods dichotomy, a third group termed "cultural goods" better captures the traditional networks that circulated material like obsidian in the Andes. This chapter will argue that obsidian is an example of a class of material that moves between these simple classifications and that it requires a consideration of context. What pressures were responsible for the rapid change in production and circulation of obsidian during the Terminal Archaic Period? What can obsidian circulation reveal about the regional context and the strategies of early aggrandizers at the beginning of the Formative in the Titicaca Basin?
Developments in obsidian production at the Chivay source intersect with a wide swath of the Andean prehistoric sequence, and these developments will be explored below in three broad cultural periods: the "Archaic Foragers", "Early Agropastoralists", and "Late Prehispanic".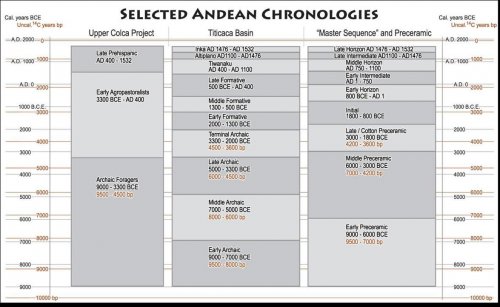 Figure 3-1. Chronologies discussed in the text.
"Archaic Foragers" are characterized as mobile foraging groups responsible for the early human use of the obsidian source, exchange, and consumption of the material. Use and exchange of obsidian by Andean mobile foragers during the Early, Middle, and Late Archaic Periods will be considered in light of ethnographic and archaeological evidence.
Next, with the domestication of camelids and chenopodium occurring sometime during the Late Archaic, food production came to dominate the economy by 3300 cal BCE heralding sweeping changes that included early social ranking that first appeared during the Terminal Archaic and early Formative Periods. During this period, referred to here as the Early Agropastoralist period, the production and exchange of obsidian appears to have changed as the material became more widely circulated in the consumption zone and mobility was facilitated by the gradual inception of regular camelid caravan transport routes. Reciprocity-based exchange systems would have coalesced, while personal procurement activities persisted from the earlier period, resulting in distinctive production evidence in the source area. The evolution of expansive states during the Middle Formative and Late Formative through to the Tiwanaku Horizon shifted the regional political structure, and these developments had repercussions in the Chivay source region. As regional centers in the Titicaca Basin emerged and began to dominate the political landscape, the established exchange patterns may have shifted to reflect the role of redistribution believed to have been occurring at the centers. Political forces became increasingly powerful in the Titicaca Basin, as well as expanding out of the site of Wari far to the north in Ayacucho, and the procurers of Chivay obsidian in the Colca area were increasingly working in a border land between powerful polities. What kinds of evidence will be reflected by the combined impacts of local provisioning, reciprocity, and elaborate redistribution systems in the Chivay area and in the Titicaca Basin consumption zone? With the collapse of Middle Horizon polities, the effects of warfare on exchange are apparent in the limited distributions of obsidian during the Late Intermediate Period. Finally, the Inka period was a time of great regional integration and tremendous redistribution of goods, but it appears that obsidian had reduced significance in favor of competing materials like metals. The changing nature of prehispanic obsidian exchange, and the link between exchange theory and the south-central Andean sequence, will be considered in this chapter.
3.1. Andean Economy and Exchange
The Andes present a valuable opportunity for examining anthropological models of economy and exchange in prehistory. Distinctive historical aspects of Andean development, including the emergence of pristine states at high altitude, the administration of vast empires without a formal system of writing, and the wealth of ethnohistoric data provided by Spanish chroniclers, offer important research problems for economic anthropology. This study investigates the procurement and circulation of obsidian from the Chivay source in the south-central Andes during a broad time period that includes major shifts in the economy and in socio-political organization.
Throughout prehistory, the long, narrow Andean cordillera presented distinctive challenges to human groups that were addressed through a variety of technological and social strategies. Here, a focus on lithic raw material procurement and exchange permits obsidian circulation to serve as an indicator for particular types of regional interaction.
Exchange has a complex role in mediating human relationships over distance (see Section2.2.2), and in the south-central Andes, obsidian appears to have served as both a political tool and relatively ordinary aspect of economic activity. In part, the persistence of exchange in herding regions reflects lack of autarky among the dedicated pastoralists; they require vegetative and agricultural products, and such items are widely available in the sierra and foothills. In reference to the early development of long distance caravan networks in the altiplano, David Browman (1981: 413) notes "[t]he trade in consumables is less spectacular than the trade in luxury items, and more difficult to detect archaeologically, but it was much more important to the average altiplano inhabitant." In other words, due to the environmental contrasts in the Andes, relatively mundane consumables like salt, ajipeppers, and even coca leaf could precipitate a low-level but persistent demand for exchange of goods between adjacent ecological zones and, in some cases, across larger distances.
A central point of the following discussion is that wide-ranging exchange networks, apparently organized at the level of the household and facilitated by caravan transport, are a persistent theme in the south-central Andean highlands. These networks do not integrate easily with the exchange typologies presented above (Section 2.2.4), and this form of articulation is sometimes seen as irrelevant "background" reciprocity in models of early competitive leadership. However, this distributed mode of integration may have served as an early foundation for subsequent political organization in the region. This study focuses on obsidian procurement and distribution and infers that other goods were also being transferred along these networks. While the simple assumption that evidence of obsidian circulation is analogous to prehistoric trade in a multitude of other more perishable goods is problematic, the persistence of obsidian exchange in the south-central Andes is compelling evidence of generalized contact over distance.Andean approaches to regional economy are reviewed here in order to examine the distribution of obsidian and other goods through diverse mechanisms of procurement and exchange.
3.1.1. Economic organization and trade in theAndes
In a cross-cultural perspective, Andean exchange relationships throughout prehistory exhibited characteristic organizational traits of societies dwelling in mountain ecological zones; although in the late prehispanic periods distinctive features of inter-zonal control emerged in the south-central Andes. There is general consensus among Andeanists that the mechanisms of merchantilism and market economies - prices reflecting supply and demand - did not exist in the late prehispanic south-central Andes[2].
Polanyi's substantivist economic typology based on peasant households in non-capitalist settings is still widely used in the Andes with some modification.
Reciprocity, redistribution, and non-market trade are the institutional means by which indigenous Andean economies operate. All evidence points to the overriding fact that true market systems did not operate in the central Andes, as they did in central Mexico and in a number of complex societies of the Old World. Exchange did exist on a massive and pervasive scale, however, and the concept of administered trade is the superior means of understanding this phenomenon in the prehispanic central Andes. Trade existed, but it was not one based on market principles. Virtually all cases of trade were administered by some corporate group, constituted along sociological (kinship) or political lines (Stanish 1992: 15).


The major modes of economic interaction will be reviewed below. Finally, the closing section of chapter 3 will explore more specific material expectations of how each of these economic modes may appear in procurement areas such as the Chivay obsidian source.
3.1.2. Economy and exchange in mountain environments
Cross-cultural studies of human adaptation to mountain environments have revealed a number of common features between production strategies employed by people in the Andes, the Himalaya, and the Alps (Funnell and Parish 2001;Guillet 1983;Rhoades and Thompson 1975;Tomka 2001). These commonalities in adaptation to mountain settings include:
Both specialized and mixed procurement systems are found, but there is a predominance of mixed systems.
Specialized procurement systems are interconnected through regional exchange.
Land holdings by a particular social unit can be non-contiguous and distributed across multiple ecological niches.
In extensive procurement zones, such as grazing areas, land tenure is communal, whereas in intensive procurement, such as irrigated farmland, tenure is often family based.
These strategies are responses to characteristics of mountain settings that include altitude-based biotic ecozones, limited productivity in any single zone, and risk to herding and farming in production activities.
These regular features of production in mountain settings provide a comparison against which to evaluate procurement strategies in the Andes. A number of characteristics of production common to mountain environments have been inappropriately conceived as exclusively Andean in an essentialist tradition referred to as lo andino (Starn 1991;Van Buren 1996), while conversely others have sought to impose Andean models on regions where the model does not necessarily apply (Goldstein and Messerschmidt 1980). These models of regional interaction in mountain environments, both in Andean and general geographical models, can be contrasted with regional distributions of raw materials. Obsidian and other raw materials circulated widely in the Andes, and the spatial patterns described by these materials, may be examined in light of other regional patterning like stylistic distributions, as well as economic models of regional interaction.
3.2. Long distance trade
The transport of goods over distances that exceed immediate complementarity relationships in mountain environments is well-documented archaeologically and ethnographically in the south-central Andes. Point specific resources like obsidian and salt have a distinctive, radiating distribution pattern as compared with subsistence exchange between ecological zones (Figure 3-4). Mechanisms that include direct acquisition and down-the-line exchange (boundary reciprocity) are likely to have been long-term exchange modes that served to disseminate of goods horizontally through a single ecological setting like the Andean altiplano. However, it is known ethnohistorically that long distance transport with the aid of camelid caravans, either with direct procurement and including very few transfers (long distance trade caravans), was a common method for the lateral distribution of goods. When did long distance caravan transport begin to dominate regional exchange in the south-central Andes, and who initiated this form of transfer between far-flung populations? Principal factors that influence the origin and perpetuation of long distance trade routes by highland pastoralists in the south-central Andes include the following features.
(1) Cargo animals:While not exceptionally strong, llamas are effective cargo animals because they are relatively compliant, they are not water tethered, and they can consume a range of grasses found on the altiplano so that they do not have to transport their own fodder.
(2) Topography:By virtue of the open and predominantly low-angle topography of the altiplano, the movement of loaded cargo animals across the altiplano requires lower effort than travel along the eastern or western sierra that are bisected by deep valleys.
(3) Resources:On an inter-regional scale, the altiplano divides complementary resource areas from the Amazon lowlands to the Pacific Ocean and these converged on the altiplano during particular time periods.
These features created circumstances that allowed for the wide-distribution of materials like obsidian and other products in the south-central Andean highlands. Long distance exchange and spatial relationships have been presented as a primary factors in the appearance of early social complexity during the Middle and Late Formative (Bandy 2005;Stanish 2003: 159-164). However, given the antiquity of camelid domestication in the Andes the long distance caravan pattern probably predated the Middle Formative by a millennium or more. The presence of caravans and the transport of complementary goods around the high, flat altiplano are part of a number of characteristics that created the circumstances within which social inequalities evolved. Competition for social power emerged during the Formative from a context that included these features of long distance exchange both in terms of the capacity for regional interaction, and the social institutions that surrounded the organization and scheduling of exchange in the region. These regional exchange mechanisms had long term consequences based the theory of Clark and Blake (1994: 17) who argue that social ranking was the unintended outcome of early political actors, operating within the institutional constraints of their circumstances, pursuing short term prestige goals for themselves and for their supporters. Following this model, the established circulation mechanisms of non-local products during the Early Formative, and perhaps earlier, are likely to have had a significant influence on the strategies pursued by aggrandizers during subsequent periods such as the Middle Formative.
3.3. Regional patterns and major sources of obsidian
Sources of tool-quality obsidian occur in discrete locations along the Western Cordillera in the south-central Andes. The spatial pattern of obsidian sources in southern Peru, spaced at an interval of approximately 100-300 km along an arc trending north-west to south-east, is evident from maps of these source distributions. It is volcanic processes at a continental scale that have resulted in emplacement of obsidian at 3000 and 5000 meters above sea level. As will be discussed in more detail in Chapter 4, obsidian sources appear to be regularly spaced paralleling the spine of the Western Cordillera, however geologists believe that "the complex tectonic and lithospheric variables at continental subduction zones preclude the development of any regular pattern of volcano spacing" (Clapperton 1993: 77-80). Nevertheless, volcanoes do occur at major crustal fractures and at fracture intersections.
Figure 3-5. Known south-central Andean obsidian sources used in prehistory with least cost paths (Tobler's function on SRTM DEM data) from the three major sources to sites in the region.
In the prehispanic central and south-central Andes obsidian from three sources dominated the archaeological use of this material, followed by obsidian from a number of minor, local sources that were only used for tool production in the area of geological origin (Figure 3-5). Finally, there were countless sources of geological obsidian that were used negligibly, or not at all, by humans apparently due to the undesirable attributes of the glass. Outside of the study region, additional major Andean obsidian sources have been studied to the south in northern Argentina and surrounding terrain (Yacobaccio, et al. 2004;Yacobaccio, et al. 2002) and to the north in Ecuador (Burger 2003;Burger, et al. 1994).
The three most widely-circulated obsidian sources in Peru and north-west Bolivia are the Quispisisa, Alca, and Chivay types, and these three types will be investigated here in more detail. Burger et al. (2000: 348) argue that it is the large nodule size and the homogeneity of the glass that is the primary determinant of how widely obsidian was circulated in prehistory and by these criteria these three sources are exceptional in the Andes.
In the course of this research a relational GIS database has been assembled using published data on obsidian sourcing in the south-central Andes (Burger, et al. 2000;Craig 2005: 908-916;Frye, et al. 1998;Giesso 2000) and using these data a few summaries have been generated for the purposes of this study. The trends in these data show broad patterns in the use of obsidian by chemical type, but given the early stages of this kind of research, these values also reflect a sampling bias based in the history of research and the collections available for sampling. With further development of sourcing technologies, including the more widespread use of portable XRF units, obsidian from a wider variety of sites will be characterized in coming years.
Type

Samples

Sites

Ave. Distance
(Km) *

Ave. Time
(Hrs) **

Max. Distance
(Km) *

Max. Time

(Hrs )**

Chivay

531

48

171.0

40.0

553.6

120.8

Alca

305

50

249.6

66.0

988.7

260.7

Quispisisa

525

63

260.3

66.7

846.7

208.5
Table 3-2. Three major Peruvian obsidian sources showing average and maximum distances and times. * based on straight-line distance measure, ** Least-cost path walking time based on Tobler's(1993) hiking function.
Figure 3-6. Cumulative frequency graph showing three major Peruvian obsidian sources by consumption site altitude.

As will be discussed below, the dominant pattern that has emerged for both the Chivay and the Alca obsidian types is one of highland interaction. Throughout the prehispanic period, artifacts of Chivay obsidian have never been found below an altitude of 1280 masl, and that was in the context of a Tiwanaku colony, at the site of Omo in Moquegua (Burger, et al. 2000: 338;Goldstein 1989). Alca type obsidian artifacts are similarly found mostly at high altitude; the coastal Quebrada Jaguay paleoindian finds are anomalous for Alca distributions. The next lowest altitude context for Alca is also at Middle Horizon Omo. Quispisisa, on the other hand, is commonly found at coastal sites from the Nasca area and northward, beginning with a strong representation at the cotton preceramic site of San Nicolas (Burger and Asaro 1978;Vaughn 2005).
One possible explanation for the lack of Chivay and Alca obsidian in low elevation contexts is that camelid caravans were less common in the low elevation coastal areas of southern Peru and northern Chile. While there is strong evidence of camelid corrals in northern coastal Peru (Shimada 1982), the examples of pastoral sites in the coastal areas of the south-central Andes are rare. Stanish (1992: 57) states that there no sites with corrals below 1,500 masl in the Moquegua drainage, and he presents other evidence for the scarcity of pastoral sites in southern coastal Peru. However, Wheeler et al. (1995) examine the remains of 26 camelids, both llamas and alpacas, at the Chiribaya site of El Yaral at 1000 masl in Moquegua. Moving northward in the Pacific coastal drainages, both Christina Conlee (2000) and Kevin Vaughn (2005) report evidence of domesticated camelids at low altitude in the Nasca area. Vaughn (2005: 92) describes a corral-like structure at the site of Marcaya at 1000 masl. As mentioned, the Nasca zone is rich in Quispisisa obsidian. A variety of factors may have contributed to the pattern of Quispisisa obsidian consumption on the coast and Alca and Chivay consumption in the highlands including the greater breadth of the altiplano in the Titicaca Area, the position of geological source relative to the coast, and the severe aridity in the Atacama area of southern Peru and northern Chile.
3.3.1. Obsidian and larger geographical associations
The specific cultural and temporal associations of these distributions are explored in a series of publications by Richard Burger, particularly in Burger et al. (2000). There appear to have been two overarching geographical associations that cut across the various distributions of obsidian in space and time.
Availability, demand, and mobility
Chivay was largely conveyed into the Lake Titicaca area by Titicaca Basin communities and polities that were organized around the lake and the adjacent broad altiplano. For sites in the Lake Titicaca Basin, the database shows that 453 obsidian artifacts have been sampled from all time periods, and 408 (90%) of the samples were of the Chivay obsidian type. Another interesting aspect to this pattern is that the proportion of Chivay obsidian holds true for the north Titicaca Basin as well as the south when the two areas are considered separately. Using Bandy's (2005: 92) division of the Titicaca Basin where the site of Camata and northward are considered the North Basin, and with the South Basin extending as far south as Khonkho Wankane and south-west to Qillqatani, all obsidian samples in the region were aggregated from the entire prehispanic period. The LIP site of Cutimbo, though slightly south of Camata, was joined with the North Basin sites while Incatunahuiri and the Ilave valley sites were counted with the South Basin.
Samples

Sites

Chivay Type

Alca Type

Other Types

NorthTiticaca Basin

284

16

261

91.9%

20

7.0%

3

1.1%

SouthTiticaca Basin

231

13

205

88.7%

5

2.2%

21

9.1%

Total

515

29

466

90.5%

25

4.9%

24

4.7%
Table 3-3. Obsidian in the north and south Titicaca Basin by counts and percents.

These patterns reveal that Chivay obsidian accounts for approximately 90% of obsidian from the Titicaca Basin, with a greater presence of Alca obsidian in the North Basin. It seems that the presence of obsidian from alternative sources, whether it was the Tumuku source (still unlocated) or other obsidian sources further to the south, counter balances the access to Alca type in the North Basin. This pattern, with heavy use of Chivay obsidian in the South Basin, reflects overall integration in the Titicaca Basin through prehistory as well as the lack of high quality obsidian sources with large nodules south of the Chivay source, until one arrives at the Zapaleri source close to the frontier of Bolivia, Argentina and Chile, located 700 km to the south of Lake Titicaca (Yacobaccio, et al. 2004: Fig. 1). It has been noted that, in cultural terms, the Chivay distributions are especially linked to areas integrated by the Tiwanaku state, the Pukara polity, and with their predecessors: the Middle Formative communities linked by Yaya-Mama stylistic features (Burger, et al. 2000). However, what is particularly compelling about the evidence from obsidian is that these social and economic links in obsidian exchange appear to predate the cultural-stylistic links and become defined in the Terminal Archaic roughly 1000 years earlier than regional evidence of the Yaya-Mama stylistic attributes that first appear at Chiripa in the southern Lake Titicaca Basin.
The distribution of Alca material is confined by the availability of Quispisisa on one side and Chivay on the other, but nevertheless Alca obsidian was transported the furthest with material during the Middle Horizon being conveyed as far as the Wari sites of Huamachuco and Marca Huamachuco near Cajamarca (Burger, et al. 2000: 336). Alca material was also transported the furthest distance at an early date, as it was conveyed 769 km to Chavín de Huantar during the Early Horizon where it was found in both elite and commoner contexts (Burger, et al. 2000: 313-314). Quispisisa predominates in Wari assemblages but it also circulated widely before the Middle Horizon, such as the 589 km to Chavín de Huantar during the Early Horizon.
Terrain adjacent to source
The altitudes of obsidian consumption sites (XFigure 3-6X) also reflect the terrain adjacent to each of the sources. The Quispisisa source is in an area with deep river valleys and a number of the sites sampled are from lower elevation or coastal contexts. The Alca source is similarly close to deep river valleys, but it also borders the altiplano and the much of the Alca samples came from the highlands of the Department of Cusco. The Chivay source is on the periphery of the broad altiplano and with no major altitude loss it was possible to transport material to a variety of sites that include Pikicallepata to the northeast and Qillqatani to the southeast. Further detail on these obsidian distributions are described below, and are published elsewhere (Burger, et al. 2000; cited in Craig 2005: 908-916;Frye, et al. 1998;Giesso 2000).
3.4. Chivay Obsidian Consumption Contexts
Archaeological research conducted at four sites in the south-central Andean highlands, the consumption zone for Chivay obsidian, provide evidence for the changing use of Chivay obsidian over long time periods. This section will begin by focusing on the four sites because they important here as the sites have provided stratified evidence of obsidian consumption during the Archaic and Formative in well-dated archaeological contexts. This review of the sites will be relevant in subsequent discussions of change in obsidian use over time in the region, and for interpreting activities at the Chivay source.
3.5. Andean Obsidian Distributions through Time
While obsidian spatial distributions are well demonstrated, it is more difficult to ascertain the temporalpatternsbecause many of the obsidian artifacts from the south-central Andes that have been sourced are from an uncertain temporal provenience. The Andean obsidian sourcing literature, organized and published primarily by Richard Burger, has provided a temporal context for obsidian samples wherever possible. Temporal control for obsidian artifacts fall into three categories
(1) excavated contexts with a temporal association.
(2) surface materials spatially associated with temporally diagnostic artifacts.
(3) direct chemical sourcing of temporally-sensitive diagnostic projectile points.
Good temporal control from excavated contexts is preferred, but a number of the samples are from the number 2group, above, because the samples have weak temporal control and are from sites that are assumed to be single component based solely on diagnostic artifacts. Finally, a fourth method, obsidian hydration dating, has been used in the Andes but with mixed results. The high diurnal and seasonal temperature variation in the Andean highlands suggests that hydration dating can only be reliably used as a relative dating method in conjunction with14C dates (Ridings 1996).
Chronologies based on stages on the one hand, and periods or horizons on the other, are used in Andean archaeology. Some pan-Andean research, such as studies of regional obsidian exchange, have used the horizons absolute chronology developed by John H. Rowe (1967) in collaboration with Dorothy Menzel and based on the Ica ceramic "master sequence". This approach allows for a maximum of compatibility between regional datasets and it has been used widely, and even extended into the Titicaca Basin (Burger, et al. 2000). However, archaeological research conducted in the Lake Titicaca Basin has largely followed a chronology based on evolutionary stages that differs from the horizon chronology primarily during the Formative Period and the Tiwanaku Period (Hastorf 1999;Kolata 2003;Stanish 2003: 85-90). As the bulk of Chivay type obsidian artifacts are found in the Lake Titicaca Basin, this dissertation will review Andean obsidian distributions using a Titicaca Basin chronology, and it will follow the Formative Period temporal divisions used by Stanish (2003). These regional data will be presented in terms of three major temporal periods in order to be consistent with the framework adopted with the new data reported for this dissertation.
Titicaca Chronology

Years cal. AD/BCE

Late Prehispanic

Late Horizon

A.D. 1476 - 1532

Late Intermediate

A.D. 1100 - 1476

Tiwanaku

A.D. 400 - 1100

Early Agropastoralists

Late Formative

500 BCE - AD400

Middle Formative

1300 - 500 BCE

Early Formative

2000 - 1300 BCE

Terminal Archaic

3300 - 2000 BCE

Archaic Foragers

Late Archaic

5000 - 3300 BCE

Middle Archaic

7000 - 5000 BCE

Early Archaic

9000 - 7000 BCE
Table 3-9. Temporal organization of data.
These three major temporal divisions serve to differentiate the major forces that appear to have structured obsidian procurement and distribution. Rather than focusing on the "preceramic" and "ceramic" dichotomy, which is only peripherally related to obsidian use, a decision was made to present data in terms of these three major divisions. Furthermore, socio-political changes that accompanied obsidian circulation in the Terminal Archaic are better considered in conjunction with the later developments in the Formative than together with the earlier periods of the Archaic.
The use of the term "Archaic Foragers" is not meant to suggest that no pastoralism occurred prior to 3300 BCE Many scholars place the initial domestication sometime between the Middle and the Late Archaic in the chronological terms used here (Browman 1989;Kadwell, et al. 2001;Wheeler 1983;Wing 1986). However, initial domestication and adoption of a dedicated pastoralist economy are distinct events, and the evidence from a number of sites in the south-central Andean highlands suggests that the process of shifting to a food producing economy in the Andean highlands featuring camelid pastoralism and agriculture based largely on seed-plant and tuber cultivation was complete by circa 3300 BCE in the Upper Colca region. Likewise, these divisions between "forager" and "pastoralist" are not meant to suggest that foraging activities ceased in the Terminal Archaic, merely that foraging diminished in importance in terms of caloric intake and food security.
The Early, Middle, and Late Archaic Periods have the additional benefit of being differentiated by relatively consistent changes in projectile point morphology through prehistory. A projectile point typology has recently been developed by Klink and Aldenderfer (2005) that synthesizes data from previously developed point typologies with new evidence from stratified Archaic and Formative excavations in the region. This typology has proven to be extremely useful for investigating surface distributions of projectile points, and it will was used throughout this dissertation both for assessing the age of obsidian points on a regional scale, and for assigning temporal categories to surface sites identified in the course of our 2003 survey work.
Figure 3-10. Projectile Point Typology with Titicaca Basin chronology (Klink and Aldenderfer 2005)
The temporal groups shown in Figure 3-10 visibly depict the changes in temporal control provided by projectile point evidence between the "Archaic Foragers" and the "Early Agropastoralists". With the advent of series 5 projectile point styles in the Early Agropastoralists time, the forms of projectile points became a far less effective means of differentiating time periods because projectiles do not change with as much regularity. Series 5 projectile points, except for type 5a, are diagnostic only to the time after the domestication of camelids and the dominance of food producing, pastoral economy. The following review will examine only a few of the most significant aspects of these distributions by time period, with a focus on insights from obsidian exchange on the preceramic and Early Agropastoralist stages of Andean prehistory.
3.5.1.Archaic Foragers in the South-Central Andes
To date, relatively few Archaic archaeological sites have been excavated in the area of the south-central Andean highlands, and therefore the regional knowledge of this important time period is limited. A brief overview of each period will be provided here, with an emphasis on archaeological sites containing Chivay type obsidian, in order to contextualize the regional relationships and interactions that were occurring during these preceramic periods. This review will focus on the western slope of the Andes and the Lake Titicaca Basin, the region where Chivay type obsidian abounds. Much of the Archaic Foragers obsidian in the literature that has been sourced was derived from undated, surface contexts from sites that are assumed to date to the Archaic based on projectile point styles or other inference by archaeologists. Klink and Aldenderfer's (2005) projectile point typology permits the classification of site occupations by time period with greater certainty during the Archaic when projectile point styles change with regularity. In some cases, the projectile point typology can be used to assign a date range to temporally diagnostic obsidian projectile points that have been directly analyzed for chemical provenience.
In Burger et al.'s (2000: 275-288) review, procurement and exchange during the preceramic is evaluated through chemical provenancing data from 87 obsidian samples, 70 of which are from the Chivay source. Unfortunately, of the thirteen sites where the samples were collected in the south-central highlands, only three sites (Chamaqta, Asana, and Sumbay) contain excavated contexts placing the samples in preceramic levels. The other samples are assigned to the preceramic group through inference from projectile points, or because they are from a-ceramic sites. The difficulty in this arises from the fact that obsidian was used with much greater frequency in the beginning of the pastoralist periods, as was mentioned above in the case of the Ilave valley (Section 3.4.4 ).
Obsidian materials from both the Chivay and Alca sources were transported relatively long distances from the Early Archaic onward, indicating that material from these obsidian sources has properties that were prized at a relatively early date. Sites such as Asana and Qillqatani, both over 200 linear km from the Chivay source, contain non-local obsidian through much of the preceramic sequence despite the immediate availability of high quality cherts, as well as the lower-quality Aconcahua obsidian, in the local area. This evidence underscores the nature of obsidian provisioning in the Archaic Period. As compared with later pastoralist use of obsidian, Archaic foragers were relatively selective in their use of raw materials. This may reflect the priority placed on dependable hunting technology as compared with the shearing and butchering needs of pastoralists, or the different social and symbolic priorities attached to obsidian by hunters versus herders.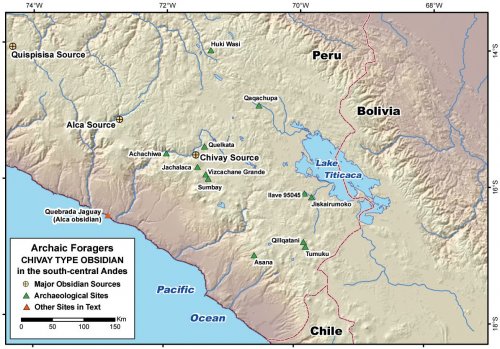 Figure 3-11.
Chivay type obsidian distributions during the "Archaic Foragers" time
(circa 10,000 - 3,300 BCE).
3.5.2.Early Agropastoralist obsidian distributions
The "Early Agropastoralists" period (3,300 BCE - A.D. 400) begins with what appears to have been a shift to a chiefly pastoral lifeway, greater regional interaction, and a more intensive production and circulation of obsidian from the Chivay source area in the Terminal Archaic. In this discussion, the Early Agropastoralists period continues through the Late Formative and subsequently beginning AD400, with the ascendancy of Tiwanaku, the "Late Prehispanic" time block begins. The changes during the Terminal Archaic that mark the beginning of the Early Agropastoralist time include the growing importance of food production, the expanded production and circulation of obsidian, and socio-political differentiation that began to appear in the Terminal Archaic, phenomena of greater interest to this research than the presence or absence of pottery.
Figure 3-12.
Chivay type obsidian distributions during the "Early Agropastoralists" time (3,300 BCE - AD 400).
3.5.3.The Late Prehispanic
During the Late Prehispanic period the circulation of Chivay obsidian was subjected to pan-regional forces by expansive Tiwanaku and Wari and again during the Inka period. While obsidian appears to have had fairly consistent use in both the Tiwanaku and Wari domains, the use of obsidian relative to other goods appears to have declined.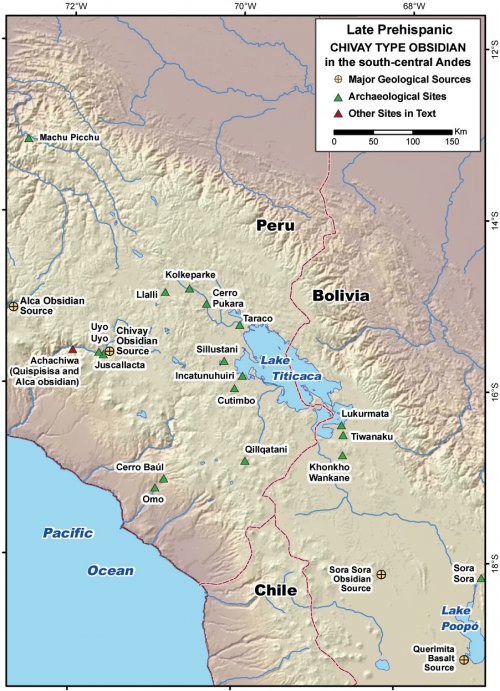 Figure 3-13. Chivay type obsidian distributions during the "Late Prehispanic" time (AD 400 - 1532).
3.6. Obsidian Use in the South-Central Andes
Obsidian was knapped into relatively few artifact forms in the south-central Andes. The most common formal stone implement was a bifacially flaked projectile point, but other bifacial tools such as knives and scrapers were also commonly produced throughout the consumption region. The other major technical class for obsidian artifacts were simple flakes. As a sharp, but fragile, cutting implement, a freshly struck obsidian flake was potentially useful for butchery and wool shearing purposes. Dransart (2002: 108-109) reports that in rural communities modern wool shearing is accomplished either with the lid of a tin can that has been folded over so as not to cut the user's hand, or with a broken piece of bottle glass. Contemporary herders in the Colca region report that obsidian flakes, and sometimes broken glass vessels, are used for castrating animals because it was explained that as non-metal tools do not oxidize, they are less likely to introduce infection into the animal (T. Valdevia 2003, pers. comm.).
A distinctive Andean method of camelid slaughter can be accomplished with a small, sharp flake is described by George Miller (1979: 27-36). The ch'illamethod of slaughter consists of laying the animal down, cutting a small incision near the sternum with a small flake of stone, and reaching in and manually breaking the ascending aorta where it leaves the heart. Ethnoarchaeological studies have shown that simple flakes are often used in butchering and shearing, and therefore a prehistoric association between pastoral facilities and lithic flakes, both utilized and unutilized, seems probable.
3.6.1. Variability in Andean obsidian use
In many regions of the world prehistoric artifacts made from obsidian can be generally classified by whether the principal function is for display or for some utility more directly related to subsistence. In Mesoamerica and the ancient Near East, both areas with complex societies and elaborate stone tool production, obsidian was used to make bowls, vases, eccentrics, seal stamps, statuettes, and tables, as well as items of personal decoration such as labrets, ear spools, necklaces, and pendants (Burger, et al. 1994: 246). Craftspeople also developed efficient, high utility obsidian technologies as well, such as prismatic blades, a form that allows archaeologists to quantify cutting edge to edge-length, error rates, and other efficiency measures.
In the south-central Andes the diversity of artifact forms made from obsidian is relatively low, and it is difficult to differentiate display from utilitarian applications. For example, obsidian projectile points are both sharp and highly visible, suggesting that the points had a display function that underscored their utility as a weapon and as a cutting tool.
3.6.2. Symbolic significance of obsidian
Inferring the symbolic significance of obsidian in the prehispanic Andes involves approaching the topic from a several lines of evidence because there are few direct indicators of valuation and symbolic meaning of obsidian in the Andes. Below, these issues are raised as a series of questions that may, or may not, be answered with archaeological evidence from the region:
(1) How did the symbolic importance of obsidian change through prehistory?
(2) Do changes in use of obsidian reflect local geographic availability?
(3) Did the visual properties of obsidian resonate with Andean aesthetic traditions?
(4) Was there social significance in the visible differences between major obsidian types?
Part of the difficulty in inferring the symbolic properties of obsidian is the result of a relative reduction in the importance of obsidian during the Late Horizon and Colonial period, to judge from ethnohistoric accounts. Ethnohistoric sources are a prime source of information, although through Spanish eyes, of cultural significance and symbolic value in the prehispanic Andean world. Despite the apparent decline of obsidian use in the late Prehispanic and Colonial periods, archaeological distributions suggest that obsidian had substantial cultural and ceremonial associations in particular contexts during in Prehispanic times.
How did the social and symbolic importance of obsidian change through time and space?
Obsidian flakes and bifacial tools were sometimes included as grave goods from the Terminal Archaic (3300 cal BCE) and onwards. Ethnohistoric accounts and archaeological evidence indicate that obsidian "knives" were employed in ritual practice as well as in medical procedures throughout the region, although it is not evident if these were bifacially-flaked tools or simply freshly struck flakes. In addition, concentrations of flakes of quartz as well as obsidian from a variety of non-local sources were found in the Tiwanaku ceremonial mound of Mollo Kontu in a regular pattern that was interpreted by Couture (2003) to indicate deliberate inclusion in clay fill rather than accidental redeposition.
Based on analogy from other goods, it is possible that in areas where obsidian is used in ceremonial contexts a finely-made obsidian implement may have been less likely to have been exchanged as an alienable product traded in barter. In some historical contexts, a ritual item may become a singular item and acquire a distinctive 'genealogy' related to its social history that precludes it from being bartered and circulated in equivalence for something ordinary such as a sack of potatoes (Hodder 1982;Kopytoff 1986).
However, on the whole, obsidian appears to be one of a number of products that escapes easy classification. On one hand, obsidian circulated in established networks controlled by llama caravan drivers who were responsible for the distribution of a variety of goods on the altiplano. These caravans appear to have been organized by households and derived communities of relatively humble means, to judge from other aspects of their material lives excavated at sites like Qillqatani. On the other hand, as a luminescent material with irregular spatial availability, obsidian had properties that qualify it as a "prestige good" in many contexts (Hayden 1998). In terms of rituals organized and performed on a local level, obsidian was probably one of a number of materials that were traditional but non-the-less slightly rare like ochre and shell. Craig (2005: 683-693) explores the evidence for the symbolic importance of discrete color groups in ritual items like ochre and obsidian in the Titicaca Basin Archaic and Formative site of Jiskairumoko by examining the patterning of obsidian and ochre in comparison to what were common-place, functional applications of these goods.
From the perspective of early aggrandizers in the Terminal Archaic and Formative Lake Titicaca Basin, obsidian probably represented a somewhat elusive product for labor investment and therefore was not a principal substance used in elite strategies by the time of the Middle and Late Formative. From the perspective of prestige technologies serving the agenda of aggrandizers by locking up surplus labor (Hayden 1998), the issue might be considered in terms of the following factors:
(1) Obsidian was relatively easy to acquire, perhaps too easily acquired, for the people living in the highlands of Arequipa; and it was not concentrated in specific, controllable points accessed only through mine shafts.
(2) Obsidian has functional properties that assured its continued circulation for the production of cutting and piercing implements, making it insufficiently rare to have served as a "preciosity" (Clark and Blake 1994;Goldstein 2000).
(3) While craft specialization was fostered in more closely-controllable contexts in regional centers during the Formative, obsidian sources were perhaps sufficiently distant to have escaped this kind of specialized craft production. In contrast, consider the various non-utilitarian obsidian products made by craftspeople in Mesoamerica, discussed above.
(4) As obsidian was primarily made into projectile point tips, it was perhaps associated with hunting, or the threat of violence. In some regional traditions, such as in Nasca iconography, obsidian appears to have been associated with trophy head taking. However, in the south-central Andean highlands there is no evidence of a direct association between violence, emerging leadership, and control of surpluses along the lines of Hayden's (1995) despotic leader model.
Obsidian products, particularly finely-made bifacial tools, were perhaps one of a series of items that served to differentiate status-seeking individuals in early transegalitarian contexts, but with later crafts investment obsidian appears to have been assigned a relatively specific role for projectile point production and for cutting implements.
Do changes in use of obsidian reflect local geographic availability?
One way to examine the social and symbolic significance of obsidian is to examine the changing use of the material as availability declines with distance from the geological source. To judge from the distant consumption zone, obsidian was used in both mundane contexts and also in ritual or ceremonial contexts. At Tiwanaku, obsidian was found dispersed into the fill of ceremonial mounds (Couture 2003). It is also sometimes found in Titicaca Basin burials as of the Terminal Archaic. As reported by Craig (2005: 570-574, 679-682), at Jiskairumoko and at other sites in the Ilave valley, obsidian has been found in burials dating to 3300 cal BCE and later along with other non-local goods including lapis lazuli (sodalite) beads, gold discs, and gold beads, as well as ritual items like a camelid effigy made from bone. If the associations of obsidian with ritual power were related to its non-local origins, one might expect this pattern to have been weaker in closer proximity to the Chivay source. Items from ritual contexts, such as grave goods from the Colca Valley, and in close proximity to the Chivay obsidian source, may provide data to test this hypothesis.
Do the unusual visual qualities of obsidian resonate with Andean traditions?
Andean traditions place a priority on visual attributes, and links between the visual purity of a material and its essence have been widely noted in some segments of the Andean literature. As a natural glass, the aqueous properties of obsidian cause the material to reflect light which may display the workmanship of obsidian artifacts, as well as the potential sharpness of obsidian tools. Obsidian used for prehistoric tool production was often a homogeneous glass that was visibly consistent, pure in color, and sometimes transparent or banded. The importance of visual qualities of metals in the Andes has received greater attention:
The social arena in which metallurgy received its greatest stimulus in the Andes was the arena dominated by status and political display. An underlying cultural value system that appears to have strongly influenced the visual manifestation of status and power was a color symbolism oriented around the colors of silver and of gold. The most innovative and interesting aspects of Andean metallurgy arose from attempts by Andean metalsmiths to produce metallic gold and metallic silver surfaces on metal objects that were made of neither metal (Lechtman 1984: 15).
In Andean metallurgy, the appearance of consistency in color, reflectivity and material was prioritized because visual characteristics conveyed information about the inherent essence and animation of the object (Lechtman 1984: 33-36).
There is little direct support in Andean archaeological or ethnohistorical sources for inference regarding how obsidian was perceived, but it would be consistent for obsidian, a stone with the appearance of watery luster, to be associated with ceremonial power and ritual sacrifice given the well-demonstrated importance of stone and water in Andean cosmology.
Were the visual differences between obsidian types in the Andes important?
Visible differences between obsidian chemical types in the region are principally in terms of nodule size, fracture characteristics, glass color, and cortex. While nodule size and fracture characteristics are believed to have been important determining factors in explaining which obsidian types were circulated widely in prehistory (Burger, et al. 2000: 348), glass color is more of visual aesthetic issue. The obsidian sources in the south-central Andes are predominantly black or grey. Obsidian from the Chivay source is often a transparent grey and banded, and Quispisisa obsidian sometimes has a red coloration, although Burger et al. (2000: 314) state that the Quispisisa type is visually indistinguishable from Alca obsidian. As with many goods with discrete places of origin, these visual differences communicate information about the spatial origin of the stone that would have visually linked the material with regions and socio-political groups to knowledgeable viewers. To Brooks (1998: 452;1997) the transparency of Chivay obsidian was a reason for its wide circulation in prehistory. Others have commented on the transparency of the material including Giesso (2000;2003), and Burger et al (2000: 296). Giesso (2003: 368) observes that archaeological and ethnographic evidence from the Andes indicate that "transparent elements were viewed as mediators between different cosmological worlds". Further study may permit evaluation of observed patterns in the contexts of obsidian use that are linked to color.
Discussion
The social and ritual significance of obsidian in particular prehispanic Andean contexts appears to have varied across time and space, and with further research in the region into evidence of production and consumption these differences will be better understood. Archaeologists have established that the visual attributes of particular materials like metal were important in the late Prehispanic Andes. If this mode of interpretation may be extended, high quality obsidian shares some visual characteristics with metal such as shininess and an appearance of material purity. Furthermore, obsidian from particular areas was often visually distinct and this may have conveyed information in regions such as Moquegua where a variety of obsidian types have been encountered. Obsidian was irregularly available across the landscape, and the mere possession of this highly visible material in obsidian-poor regions had possible social significance because it suggested that the holder participated in long distance exchange networks or had alliances with groups in obsidian-rich areas.
3.7. Models for the Procurement and Circulation of Chivay Obsidian in Prehistory
A number of models have been presented for regional interaction and exchange in the south-central Andes (Bandy 2005;Browman 1974;Browman 1980;Browman 1981;Burger and Asaro 1978: 68-70;Dillehay and Nuñez 1988;Nuñez and Dillehay 1995 [1979];Stanish 2003). This study evaluates a selection of these models at the Chivay obsidian source in the highlands of Arequipa. Renfrew explored various configurations for interaction and his "exchange modes" are reviewed above in Chapter 2 (Figure 2-2). These models will be discussed with respect to activity at the Chivay source area and material expectations for what may result from each model in the vicinity of the obsidian source. It should be noted that due to the extremely thin cortex on many Chivay obsidian nodules, decortication is not a consistently useful measure of reduction level or labor investment, but none-the-less the Upper Colca lab analysis sought to measure percentage of remaining cortex on flaked stone artifacts. When the geological cortex is of the extremely thin variety, it is sometimes left on the face of tools and it does not pose an obstacle to knapping. As cortical flakes from obsidian with a thin cortex are often smooth, and can be equally sharp, one should therefore not assume that nodules will be decorticated in the quarry area.
A number of modes of procurement are explored here, but these acquisition and exchange modes are not mutually exclusive either in time or space. That is, a variety of processes were likely to have been occurring simultaneously. For example, a independent caravan have transported an obsidian nodule to a site in the Ilave river valley, and then obsidian nodule may have been transmitted through down-the-line trade from the Ilave area to the Tiwanaku area. These models, therefore, will focus specifically on procurement and initial transport from the Chivay source because that is where more direct material correlates for these different models can be expected.
3.8. Summary
This chapter establishes the background for further research into the production and circulation of Chivay obsidian in the prehispanic Andes. The chapter began with a review of different forms of exchange based on Polanyi's framework but discussed in light of Andean prehistory. The specific geographical and cultural conditions that distinguish ancient Andean economies were placed in a context that is comparable with other mountain culture regions.
Theories of culture change might suggest that regional exchange requires the managerial or coercive power of elites to organize caravans and benefit differentially from the trade goods. However, archaeological evidence shows that the persistent obsidian exchange that moved small quantities of obsidian since the Early Archaic saw a significant increase during the Terminal Archaic. This increased circulation of obsidian is an early symptom of the dramatic economic and social changes that would occur in the south-central Andean highlands in Formative times.
The evidence of this circulation was perhaps not apparent at early centers because these centers were not yet dominating regional exchange patterns through the control of labor and large herds of camelids that are believed to have been a feature of Late Formative primate centers. The mechanism responsible for disseminating obsidian to the region beginning in the Terminal Archaic is perhaps related to a number of interrelated phenomena. The principal factors governing this change may include: the lowered cost of interaction and transport of weight facilitated by caravan animals, the expansion of regional-scale social networks, and the impetus provided by the needs of some to differentiate themselves in this time of emergent social ranking through the ownership of non-local goods such as obsidian.